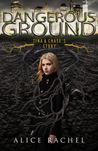 Dangerous Ground: Tina and Chase's Story by Alice Rachel
My rating: 5 of 5 stars
"When Chase was done drowning himself in flesh and numbing his pain with fleeting pleasure, agony came right back to slap him in the face. The reprieve was always temporary and shallow, forcing him to seek more relief as soon as it was over, knowing quite well the respite would never last."
Dangerous Ground is the latest instalment in the Under Ground series by Alice Rachel. It is a Dystopian story where social classes and draconian laws are in force and where food shortages, sickness, and danger are an ever-growing problem. This is Chase and Tina's story- and it shook me and left me reeling. The story is absolutely heartbreaking in places- this book is so much heavier and more intense than the other books in the series and I was left feeling wrung out afterwards. It's so full of emotion- with loss, grief, substance abuse, survival, and depression playing a large part of the story. But there's also action, drama and suspense woven through the storyline. Because of the content of the storyline, I wouldn't recommend this to younger readers, it's definitely one for 17/18 years and older.
This is a full length novel with lots of interconnected details, characters and information. It is definitely NOT a standalone and should be read as part of the series. Once again Alice Rachel has produced a wonderfully described and vividly detailed story that takes us on a raw, gritty and riveting ride. This book is a little different from the others- having already mentioned the more mature content and the 'heavier' storyline, but this story has so many chapters, a lot of which are very quick- but there are so many short scenes, much like flashes of information that we get along the way in this story, which builds a much bigger picture than what I had been expecting.
I am still thinking about the story, about what happened and how it made me feel, long after finishing reading it!
That ending made me sit up and take notice, that's for sure! I am both excited to see what the next instalment has in store for us (and the Character), and also a little sad- because it will be the conclusion to this fantastic series!
Another great addition to the series, thank you Alice Rachel!
Reviewed by @angelahayes
http://itsybitsybookbits.com/wp-content/uploads/2020/02/group-01-01-300x183.png
0
0
Angela Hayes
http://itsybitsybookbits.com/wp-content/uploads/2020/02/group-01-01-300x183.png
Angela Hayes
2018-11-06 08:05:31
2018-11-06 08:49:12
Dangerous Ground: Tina and Chase's Story (Under Ground Series Book #5) by Alice Rachel - Review by Angela Hayes