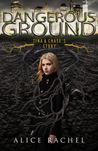 Dangerous Ground: Tina and Chase's Story by Alice Rachel
My rating: 5 of 5 stars
Dangerous Ground: Tina and Chase's Story by Alice Rachel is the seventh instalment in her Under Ground series ( know it is a bit difficult to get it straight what story comes when and you really should check out the Recommended Reading Order to get it right). It is NOT a standalone and the author states it as well so be warned, you will be so incredible lost if you do try to start with this one … I feel for you …
This story AND the whole series, it is scary how much our reality reflects the fiction or is it actually vice versa? "Numbers clearly show that the lower class as a whole consumes fewer resources in year than the upper class in five months." Doesn't is sound familiar? And there is so much more in this story where you suddenly find yourself thinking, what is reality and what is fiction …
This story has so many layers, it tells as the story of many, it gives us context to many events in the lives of the characters we have met before … I have always struggled really hard when reading this series … especially now when seeing how the world around us is growing darker and darker … at times I think that I cannot continue reading, it is too much but … I go back, again and again, every time a new instalment comes out … Thank you Alice Rachel for putting our anguish into words and giving us an illusion of that it is only fiction, giving us hope that if there are the ones fighting for others in her stories that there are also the ones out here … I am a bit apprehensive while waiting for Breaking Ground … what does the writer have in store for us?
https://itsybitsybookbits.com/wp-content/uploads/2020/07/IBBB_2020_logo_sq.png
0
0
Jana Teppih
https://itsybitsybookbits.com/wp-content/uploads/2020/07/IBBB_2020_logo_sq.png
Jana Teppih
2018-11-23 20:07:39
2018-11-23 20:27:42
Dangerous Ground: Tina and Chase's Story by Alice Rachel – Review by Jana Teppih