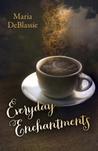 Everyday Enchantments by Maria F. DeBlassie
My rating: 5 of 5 stars
EVERYDAY ENCHANTMENTS is like a book of poetry. It's a collection of essays written by Maria DeBlassie about everyday things (as stated in the title). From Eggs to Hair to Reading and so much more, this book brought memories back of things I had forgotten and things I have yet to discover. Each essay is about 2 pages long so it's the perfect book to read while sipping a cup of tea or when you have a few minutes between tasks. It is easy to put down after reading a few "chapters" and picking up again later.
Here are a few of my favorite:
Crocheting Infinite Blankets: "Your first was a monstrous purple affair…" (Does the author know me personally?)
On Mondays: "They are the ugly duckling of weekdays…"
I Live in Stories: "I live in stories because I am uncomfortable anywhere else."
Reading Late into the Night: "You've lost track of time." (Sheesh, stop looking in my windows…hehe)
Sometimes I thought I understood how the book was put together because they seemed to be in "categories" and then something off topic would be written and I realized that it is just a book to enjoy, not analyze.
I originally rated this with 4 stars but after writing this review and going back over my highlights, I'm changing it to a 5 star review because I enjoyed even more the second time around.
Review by @mauraharper
https://itsybitsybookbits.com/wp-content/uploads/2020/07/IBBB_2020_logo_sq.png
0
0
Maura Harper
https://itsybitsybookbits.com/wp-content/uploads/2020/07/IBBB_2020_logo_sq.png
Maura Harper
2018-11-23 13:19:39
2018-11-23 17:49:32
Everyday Enchantments: Musings on Ordinary Magic & Daily Conjurings by Maria DeBlassie – Review by Maura Harper