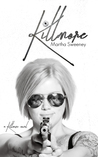 Killmore by Martha Sweeney
My rating: 4 of 5 stars
Killmore starts off with a BANG of action. Then it lets you get comfortable for awhile. It's hard to get a read on Laurie, I don't know how I totally feel about her and still feel like she has secrets. She definitely has a tough outer shell to crack but cares deeply for those in her inner circle. Aiden, Paul, who can you trust? They both seem genuine and Aiden kind of wears his heart on his sleeve, but I still have a lot of questions. I feel like Dr. Codie wasn't a fully resolved issue, maybe all these things are cleared up in book two. I'd call this a happy for now ending, with enough suspense, intrigue, and puzzle to keep me on the hook.
Review by @lisaboltiador
View all my reviews
https://itsybitsybookbits.com/wp-content/uploads/2020/07/IBBB_2020_logo_sq.png
0
0
Lisa Boltiador
https://itsybitsybookbits.com/wp-content/uploads/2020/07/IBBB_2020_logo_sq.png
Lisa Boltiador
2018-11-27 05:31:16
2018-11-27 06:09:47
Killmore by Martha Sweeney – Review by Lisa Boltiador