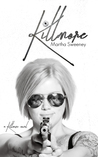 Killmore
By: Martha Sweeney
My Rating: 4 of 5 stars
Killmore (Killmore #1) by Martha Sweeney was a intense, gripping read that pulls you in.
My first read by this author and for this series. I know right, I'm starting at the first book, go me. If you follow my reviews you know I tend to not, start at the first book. It's a strange weird habit that I'm trying to kick. But enough about that, let's get into why you're here. This book, and my thoughts.
A rather different read for me, though I do love action, I've never really dove too much into that actual book genera. So saying that this was a bit out of my comfort zone isn't a stretch. I'm a bit mixed on this book. Pacing was a issue for me. I like my action thrillers fast, urgent and dangerous. This book was lacking the first two. It starts out with that dangerous urgency, but it tapers off and it falls into a lull, before it picks up, then lulls again. I don't know if it was done to up the page count, but parts of this book could be chopped down to make a more cohesive read. There are some structural issues as well, choppy or confusing dialogue and, sometimes I wasn't sure what the characters were feeling while talking, they were simply talking.
Other then that, the actual plot and MC were great. I very much like our MC, she was strong, fierce and a tad bit nuts. She was a no BS type person and I liked her style. The plot, was complex, twisty and dangerous. It had a nice darkness to it that kept the story edgy and gritty. Plus there is some hot, fan worthy, sexual tension that adds that something extra, to round out the story. And the ending.. cliffy. Why you got to do that? The next book is a must read, cause I need to know what happens!
Overall, though I'm a little mixed I do highly recommend you give this book a chance. A vastly original and unique read, it's a little bit of a hidden gem, you just got to brush off the filler to see the excellent story hidden within.
Happy Reading
-Review by @eawalsh
https://itsybitsybookbits.com/wp-content/uploads/2020/05/group-blue-01-April-2020-300x177.png
0
0
Emily-Ann Walsh
https://itsybitsybookbits.com/wp-content/uploads/2020/05/group-blue-01-April-2020-300x177.png
Emily-Ann Walsh
2018-11-26 19:59:09
2018-11-27 06:04:00
Killmore (Killmore #1) by Martha Sweeney – Review by Emily Walsh