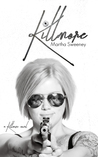 Killmore by Martha Sweeney
My rating: 5 of 5 stars
You're life has to be pretty screwy if you're in Witness Protection and the FBI can't keep you safe. But that is what makes good reading and television!
Laurie was used as an informant against a powerful Mexican cartel boss and as always, the Butcher's Bill comes due and will be paid. The man who is tasked with protecting her is sexy, mysterious, and can't really say anything about himself which is worst case scenario for the distrustful Laurie. But really, who can blame her?
I actually thought she was a bit too trusting, especially in Aiden and the government's ability to keep her from harm. Maybe that's because I've seen too many movies but I'm a worst case scenario kind of woman and money talks as it always does.
The plot twist about gave me whiplash and the cliffhanger……. THE DREADED CLIFFHANGERS!!!!
But seriously this book is fantastic and I didn't wait more than about three minutes to calm myself before I jumped into the second book.
https://itsybitsybookbits.com/wp-content/uploads/2020/07/IBBB_2020_logo_sq.png
0
0
Emma Morreale
https://itsybitsybookbits.com/wp-content/uploads/2020/07/IBBB_2020_logo_sq.png
Emma Morreale
2018-11-25 17:10:55
2018-11-25 17:31:01
Killmore (Killmore #1) by Martha Sweeney – Review by Emma Morreale