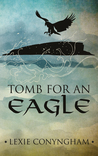 Tomb for an Eagle by Lexie Conyngham
My rating: 4 of 5 stars
Tomb For An Eagle
Orkneyinga Murders
Book 1
By Lexie Conyngham
☆☆☆☆
This is a suspenseful murder mystery. Set back in time.
Lexie Conyngham has written what I consider to be a historical suspense story. The names were old, with a touch of imagination. Which makes them unique. So I know I did not pronounce them correctly. The book was filled with suspense and kept me reading. Lexie Conyngham did a great job setting her book up. She gave plenty of background. That made you feel as though you could see the village as you read the book. I love the characters. Such a great story. So I don't give any spoilers, I will not tell you about who is who, in this story. You just have to read it. Well done Lexie Conyngham! I will be checking out your other stories as well as keeping up with this series.
Review@Cinful
https://itsybitsybookbits.com/wp-content/uploads/2020/07/IBBB_2020_logo_sq.png
0
0
Cindy Mayberry
https://itsybitsybookbits.com/wp-content/uploads/2020/07/IBBB_2020_logo_sq.png
Cindy Mayberry
2018-11-06 08:22:23
2018-11-06 08:57:37
Tomb For An Eagle (Orkneyinga Murders, #1) by Lexie Conyngham – Review by Cindy Mayberry