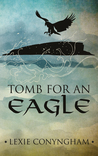 Tomb for an Eagle by Lexie Conyngham
My rating: 4 of 5 stars
This is one of those books that when you first read the blurb you are a little unsure about but once you are finished you are so glad that you read it. I will admit the front cover didn't catch my eye so this definitely falls in to the 'don't judge a book by its cover' category. The story was a little different to what I normally read but a change is good sometimes. I thought that the author created a really exciting and mysterious world in this story, through her excellent descriptive language I felt like I was right there amongst the characters. I loved that I couldn't guess what was going to happen and the author kept me guessing right until the very end. The author made me feel like I was part of the story as I was so immersed in trying to find out who did it!
If you love a good murder mystery full of suspense and exciting moments then I would absolutely recommend 'Tomb for an Eagle' – I don't think that you will be disappointed!
https://itsybitsybookbits.com/wp-content/uploads/2020/07/IBBB_2020_logo_sq.png
0
0
Katie Matthews
https://itsybitsybookbits.com/wp-content/uploads/2020/07/IBBB_2020_logo_sq.png
Katie Matthews
2018-11-06 04:25:07
2018-11-06 07:59:41
Tomb for an Eagle (Orkneyinga Murders, #1) by Lexie Conyngham – Review by Katie Matthews