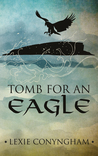 Tomb for an Eagle by Lexie Conyngham
My rating: 5 of 5 stars
This is my first story by Lexie Conyngham and let me tell you that she is amazing. I was very interested in this story because of the cover of the book. (Who does not love an intriguing book covers?) Ms. Conyngham's writing style was very descriptive which made it easy to see in my mind's eye easier. From the first couple of paragraphs to the last word of the book I was hooked. I knew it was going to be an all-day book read. The characters were like old friends that I went to visited for the day. The flow through the story was a nice pace. On the other hand, I did need to pay attention as this is a murder mystery book. Clues are out in the open but can be over looked easily. There are loopy loops and twists and turns around every corner. This story in on the Norse Lands and the characters having traditional names which is worth reading the book for that content alone. I would highly recommend reading this book. I personally cannot wait to read the next book in the series.
https://itsybitsybookbits.com/wp-content/uploads/2019/09/IBBB_promotions_logo-01-300x180.png
0
0
Erica Fish
https://itsybitsybookbits.com/wp-content/uploads/2019/09/IBBB_promotions_logo-01-300x180.png
Erica Fish
2018-11-06 12:25:43
2018-11-06 13:06:39
Tomb for an Eagle (Orkneyinga Murders Book 1) by Lexie Conyngham - Review by Erica Fish