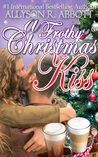 A Frothy Christmas Kiss by Allyson R. Abbott
My rating: 5 of 5 stars
A frothy Christmas Kiss
Christmas Kiss
Book 4
By Allyson R Abbott
☆☆☆☆☆
This is the fourth book in this series. While I have read them out of order as standalones.i would recommend reading them in order.
Kat was raised with a coffee cup in her hands. She loves coffee. Dan owns a coffee shop. He blends his own coffees, making new blends all the time.Seems like a match made in heaven. But nobody has told Kat and Dan. Will these two merge their coffee built romance? Or will Kat spend her Christmas alone?
Allyson R Abbott has wrote a funny little romance. This is a page turner for sure. Her story is clean yet very romantic. The innocent young couple building a relationship around the coffee shop. I live her characters! They could be your best friends. Then to make it around Christmas just adds to her story. This story is young adult safe and just a joy to read. Nicely done Allyson R Abbott!
Review@Cinful
https://itsybitsybookbits.com/wp-content/uploads/2020/07/IBBB_2020_logo_sq.png
0
0
Cindy Mayberry
https://itsybitsybookbits.com/wp-content/uploads/2020/07/IBBB_2020_logo_sq.png
Cindy Mayberry
2018-12-26 10:00:50
2020-04-13 11:57:18
A Frothy Christmas Kiss (Christmas Kiss Series) by Allyson R Abbott – Review by Cindy Mayberry