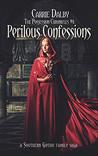 Perilous Confessions by Carrie Dalby
My rating: 5 of 5 stars
Perilous Confessions (The Possession Chronicles Book 1) is by Carrie Dalby. I'm not much of a fan when it comes to historical type stories but this one may have really changed my mind on that. Lucy and Alex immediately grabbed a hold of my attention and I simply couldn't stop until the end. This story never felt stuffy to me, that I've felt in other historical romance reads I've done. The storyline flows nicely and I never felt it was dragging on. The chemistry between the main characters is a joy to watch unfold. Each character has their own story to tell and you'll just have to read this book to hear it, trust me it's worth it. I'm giving this book a well deserved five star review and highly recommend it to anyone.
Reviewed by @jk102905
https://itsybitsybookbits.com/wp-content/uploads/2018/09/41350827_531011120653197_5005389383935721472_n-1030x381.jpg
0
0
Katie Kearney
https://itsybitsybookbits.com/wp-content/uploads/2018/09/41350827_531011120653197_5005389383935721472_n-1030x381.jpg
Katie Kearney
2019-01-10 13:37:39
2019-01-10 15:09:06
Perilous Confessions (The Possession Chronicles Book 1) by Carrie Dalby - Review by Katie Kearney