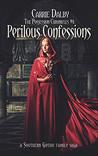 Perilous Confessions by Carrie Dalby
My rating: 5 of 5 stars
Perilous Confessions was a gripping, exciting read that I thoroughly enjoyed reading. When I first read the blurb for this book I instantly felt like I was going to enjoy it, it was intriguing, the author was new to me so I was really excited to get started. It didn't take me long at all to become completely invested in everything that was going on in the story. The detail that the author used meant that I could imagine everything that I was reading; I always find this a huge positive when reading historical reads – I want that extra detail to help me envisage what the characters are doing – especially the lavish parties!! The author certainly got this spot on with this story.
The characters, Lucy and Alex, were fantastic and their chemistry was amazing, you really could feel it between them. I am definitely looking forward to reading more from this author in the future and definitely recommend this wonderful story!
https://itsybitsybookbits.com/wp-content/uploads/2020/07/IBBB_2020_logo_sq.png
0
0
Katie Matthews
https://itsybitsybookbits.com/wp-content/uploads/2020/07/IBBB_2020_logo_sq.png
Katie Matthews
2019-01-23 09:23:36
2019-01-23 09:43:14
Perilous Confessions (The Possession Chronicles Book 1) by Carrie Dalby – Review by Katie Matthews