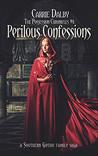 Perilous Confessions by Carrie Dalby
My rating: 4 of 5 stars
I did not read the full title of this book before diving in. Only after reading it did I see that it is "Southern Gothic" that was a new phrase to me, so I had to look it up… As described in the "Oxford Research Encyclopedia of Literature" – "Southern Gothic is a mode or genre prevalent in literature from the early 19th century to this day. Characteristics of Southern Gothic include the presence of irrational, horrific, and transgressive thoughts, desires, and impulses; grotesque characters; dark humor, and an overall angst-ridden sense of alienation."
I am not a fan of "historical romance" because typically it's all lords and ladies and the degradation of women (in the most subtle ways). "Southern Gothic" might be the way for me to get around my lackadaisical reaction to the genre.
This was a multi-layered story that built upon itself as the story unfolded. There is great world-building and character development. Each character was well explained in their role and certain characters (I'm looking at you, Opal) morphed as the story continued. It is dark and dense in it's telling. It is also extremely detailed and I could visualize the clothing worn and the looks given.
While it's still not my favorite genre, it gave me a new appreciation of the style.
Review by @mauraharper
https://itsybitsybookbits.com/wp-content/uploads/2018/09/41350827_531011120653197_5005389383935721472_n-1030x381.jpg
0
0
Maura Harper
https://itsybitsybookbits.com/wp-content/uploads/2018/09/41350827_531011120653197_5005389383935721472_n-1030x381.jpg
Maura Harper
2019-01-20 17:50:59
2019-01-20 18:34:59
Perilous Confessions (The Possession Chronicles Book 1) by Carrie Dalby - Review by Maura Harper