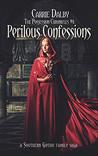 Perilous Confessions by Carrie Dalby
My rating: 5 of 5 stars
I read this book and fell in love with this story! Perilous Confessions is book 1 in The Possession Chronicles by Carrie Dalby. This book is one that I would put down as a classic and re-read must! I loved this era because no one really writes from this era, which makes it unique. Not only does this era make this story amazing but adding the fact that they are in the South, which adds more of a scandalous tale. This book is set in the very late 1890 or very early 1900's and follows Lucy Easton, an author who aspires to be published one day. She is very desperate to become published and will try and work her way into the publishing world. Then she comes across Alexander Melling, a young lawyer, who is captivated with Lucy and over time became very entranced by her. Lucy on the other hand has been warned off of Alexander by her brother. However, Lucy didn't scare so easily and fell to her attraction to him. Alexander promised Lucy realism to her writing and with that came secretive interludes. Hot, heavy and steamy interludes. I love this author's writing style. It's very captivating and surprisingly easy to read. I was surprised because it wasn't what I expected but I'm sure glad that I read it! I cannot wait for the next book to come out. I would definitely recommend this book to anyone regardless of whether or not you read historical books.
Review by @vegasdaisie
https://itsybitsybookbits.com/wp-content/uploads/2020/07/IBBB_2020_logo_sq.png
0
0
Melissa Agena
https://itsybitsybookbits.com/wp-content/uploads/2020/07/IBBB_2020_logo_sq.png
Melissa Agena
2019-01-24 00:02:59
2019-01-24 06:23:32
Perilous Confessions (The Possession Chronicles book 1) by Carrie Dalby – Review by Melissa Agena