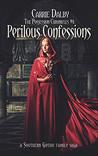 Perilous Confessions
By: Carrie Dalby
My Rating: 5 of 5 stars
Perilous Confessions (The Possession Chronicles Book 1) by Carrie Dalby was an engaging, detail tale, full of raw emotions, ups downs, and of course love.
My first read by this author ,I was pulled in right from the first page and was hooked until the last. It's been a long time since I have read such a pulling and captivating historical fiction. Rich with detail and a multi layered plot, this book was not only well balance it was as close to perfection as one could get.
This was just the book I needed to refresh my reading pallet. With all the contemporary romances I have been reading, I was starting to get irked by the littlest of things, a good sign that a change was in order. This book not only washed away that cloud of unease, it made me fall back in love with romance. I was so engaged with this tale that when it was over I felt a little sad, that I had to leave these wonderful multi layer, complex characters behind. I felt so connected to them, close, like a friend, like I was with them every step of the way, (even if they didn't listen to a thing I said… god people these days.) The smooth writing and seamless transitions, ensured I was kept in the story, making sure that my mind had no chance to wander. That level of talent is something else, and I will be definitely adding this author to my watch list.
Overall if you haven't guessed, I give this book my super high recommendation and my stamp of approval.
Happy Reading
-Review by @eawalsh
https://itsybitsybookbits.com/wp-content/uploads/2020/07/IBBB_2020_logo_sq.png
0
0
Emily-Ann Walsh
https://itsybitsybookbits.com/wp-content/uploads/2020/07/IBBB_2020_logo_sq.png
Emily-Ann Walsh
2019-01-14 19:59:13
2019-01-15 05:34:52
Perilous Confessions (The Possession Chronicles Book 1) by Carrie Dalby – Review by Emily Walsh