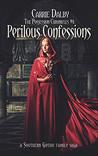 Perilous Confessions by Carrie Dalby
My rating: 5 of 5 stars
Perilous Confessions was a great 5 star read and book one in the Possession Chronicles.
It has been awhile since I've read a historical romance and I was pulled right in.
Lucy wants to be a writer and when she meets Alexander at a party she quickly falls for him. Alexander is a lawyer with a past that holds some demons. Can these two make things work and have a HEA? Will Lucy be able to handle the secrets that Alexander has?
I really liked Alexander, there was something about him that drew me in. Lucy was a strong woman and I really enjoyed reading their journey. All of the secondary characters were great. We get passion, drama, secrets and so much more. My emotions were all over the place. Carrie Dalby pulled me right in with her writing and I didn't want to put it down until I was done. I look forward to reading more from this series.
Reviewed by @mab54615
View all my reviews
https://itsybitsybookbits.com/wp-content/uploads/2020/07/IBBB_2020_logo_sq.png
0
0
Michelle Austin
https://itsybitsybookbits.com/wp-content/uploads/2020/07/IBBB_2020_logo_sq.png
Michelle Austin
2019-01-21 22:05:49
2019-01-22 10:15:09
Perilous Confessions (The Possession Chronicles Book 1) by Carrie Dalby – Review by Michelle Austin