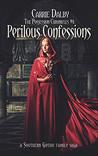 Perilous Confessions by Carrie Dalby
My rating: 4 of 5 stars
Perilous Confessions (The Possession Chronicles Book One) by Carrie Dalby is the first book i have read by this author and I was not disappointed in any way. This Gothic Romance pulled me right on with amazing storyline, strong characters, and so many secrets that are lurking everywhere. The ups and downs mixed with such emotional truly grab a reader. The author did an amazing job grabbing the reader's from the get go to the very end of this book.
Parents and family always want what is best for their children but even then it does not always mean its best for them and their happiness. Alex and Lucy both are dealing with this and once they come together in this book you are shown an era that is filled with sadness, guilt, love, passion in the deep south. So much can happen when a young lawyer and aspiring novelist are lead by desire and love, and show the families that surround them, that they are each other's happiness
I give this book 4 stars and so can not wait to read the next one in this amazing series! .
https://itsybitsybookbits.com/wp-content/uploads/2020/05/group-blue-01-April-2020-300x177.png
0
0
Heidi Eich Woodring
https://itsybitsybookbits.com/wp-content/uploads/2020/05/group-blue-01-April-2020-300x177.png
Heidi Eich Woodring
2019-01-24 22:42:35
2019-01-25 06:48:24
Perilous Confessions (The Possession Chronicles Book One) by Carrie Dalby – Review By Heidi Eich Woodring