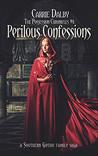 Perilous Confessions by Carrie Dalby
My rating: 4 of 5 stars
Perilous Confessions (The Possession Chronicles Book 1) by Carrie Dalby​ is well written and is a historical romance. It is a story where women are still chaperoned anything to do with romance is considered scandalous. The main characters relationship is complex and laden with improprieties. It is a love so strong that it will destroy souls but the actions of the men in this story leave me wanting to smack each and every one of them. I am not a fan of historical romances but this one was ok.
Lucy has found the love of her life and for love there are a lot of things she is willing to leave in the past but ultimately it is that past that will make her rethink what she needs and wants.
Alex has been raised to be a certain way but he found the love of his life and treasures her for eternity but certain vices that keep coming back to haunt him will be his undoing. For all Alex's faults he had me hoping against hope that he would get his HEA.
Reviewed by @jennadb
https://itsybitsybookbits.com/wp-content/uploads/2020/07/IBBB_2020_logo_sq.png
0
0
Jenni Bishop
https://itsybitsybookbits.com/wp-content/uploads/2020/07/IBBB_2020_logo_sq.png
Jenni Bishop
2019-01-22 02:29:09
2019-01-22 10:13:25
Perilous Confessions (The Possession Chronicles Book 1) by Carrie Dalby – Review by Jenni Bishop