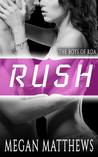 Rush by Megan Matthews
My rating: 4 of 5 stars
Rush (The Boys of RDA Book 1) by Megan Matthews is sweet story that is light and fun and easy to read. The characters are well developed and made me laugh and they found a way in to my heart. I like Megan's​ writing style which is inviting and interesting and makes it on hard to put the book down. It is a wonderful romance story that you can't get enough of. I am loving the best friends and can't wait to read their stories.
Aspen is upright and the next she isn't, it seems her knight in shining armour has just saved her from a fate worse than death. Could he be the man of her dreams or is she reading too much into it? Will his past ruin what they could have in the future?
Finn saves the day and finds himself captivated by the girl he has just saved. He once thought he knew what love was but now he is not so sure, but will his past raise its ugly head and ruin all he has ever wanted.
This is the first book by this author and I am definitely looking forward to reading more in this series.
Reviewed by @jennadb
https://itsybitsybookbits.com/wp-content/uploads/2020/07/IBBB_2020_logo_sq.png
0
0
Jenni Bishop
https://itsybitsybookbits.com/wp-content/uploads/2020/07/IBBB_2020_logo_sq.png
Jenni Bishop
2019-01-27 20:17:48
2019-01-27 21:01:33
Rush (The Boys of RDA Book 1) by Megan Matthews – Review by Jenni Bishop