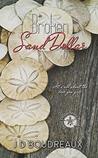 Broken Sand Dollar by J.D. Boudreaux
My rating: 4 of 5 stars
Broken Sand Dollar (The Sand Dollar Series Book 3) by JD Boudreaux is the final book in The Sand Dollar Series. It is a wonderful conclusion to the story of Alex and his life. It is a must that these books be read in order each book follow on and come together nicely. It is a journey of fate, faith and being and finally finding yourself. The first two books were enjoyable but JD did well in this book to tie everything up nicely but it also felt like the story had matured much like the characters. It is an emotional read but it also brings much happiness. I loved the stupid phrases the main characters sprouted at each other that had me laughing out loud.
Alex has always been a giver a fixer but not so much for himself. The women in his life leaving him in one way or another. After his last turn at love goes wrong, he packs up and returns to the one place that he feels at home, and what he finds when he finally stops is the one thing he never thought he would have. But he also learns how far back everything in his life has lead to where he is now.
A great way to finish up the series.
Reviewed by @jennadb
https://itsybitsybookbits.com/wp-content/uploads/2020/07/IBBB_2020_logo_sq.png
0
0
Jenni Bishop
https://itsybitsybookbits.com/wp-content/uploads/2020/07/IBBB_2020_logo_sq.png
Jenni Bishop
2019-03-01 22:35:02
2019-03-02 08:06:58
Broken Sand Dollar (The Sand Dollar Series Book 3) by J.D. Boudreaux – Review by Jenni Bishop