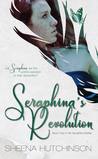 Seraphina's Revolution
By: Sheena Hutchinson
My Rating: 5 of 5 stars
Seraphina's Revolution (Seraphina #4) by Sheena Hutchinson was wow.. like I have to words wow.
The forth book and last, we are taken on a fast pace, dark, outstanding ride, and what a way to end an original, hooking and just, wow, series. I never want a good series to end, but then again, I always want to see the final conclusion, and hope our favourite characters make it out in one piece. As for this epic ending, well I'm not going to tell you squat. As this is a connecting series and I don't want to spoil it for anyone. If you haven't read the first three books, I highly suggest you do.
Writing reviews for connecting series is hard, you never want to spoil the series, but you want to gush. Just know that this series, this book, isn't like anything I have read before. There is so much growth not just with the characters, but with the plot. Our MC isn't perfect, and as much as I had problems with her in the furst part of this series, she has blossomed into a multi layer, complex character, that really just digs her way into your heart. This last book really shows that, and like I have said.. wow.. just wow.
Overall this book, this series gets my super high recommendation and my golden stamp of approval.
Happy Reading
-Review by @eawalsh
https://itsybitsybookbits.com/wp-content/uploads/2020/07/IBBB_2020_logo_sq.png
0
0
Emily-Ann Walsh
https://itsybitsybookbits.com/wp-content/uploads/2020/07/IBBB_2020_logo_sq.png
Emily-Ann Walsh
2019-04-10 20:19:45
2019-04-11 13:05:07
Seraphina's Revolution (The Seraphina Series Book 4) by Sheena Hutchinson – Review by Emily Walsh