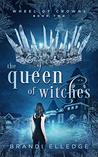 The Queen of Witches
By: Brandi Elledge
My Rating: 5 of 5 stars
The Queen of Witches (Wheel of Crowns #2) by Brandi Elledge was a fast pace, action packed, intriguing read, that had me hooked form start to finish.
The second book in the Wheel of Crowns series, and just like the first I could not put this book down. Something to know about this series, it can be read as a standalone, so if you haven't read the first book, no worries, cause you can just jump in right here. But I do suggest reading the first book cause, it's just as outstanding as this one. The attention to detail, the plot, the characters, everything was on point, engaging, pulling, and man at one point I forgot I was reading I was so absorbed in this amazing fantasy world that Brandi Elledge has created. This book, this series, is a must read from me, and it's probably one of the best I have read so far this year!
So if you haven't guessed, this book gets my super high recommendation and my stamp of approval.
Happy Reading
-Review by @eawalsh
https://itsybitsybookbits.com/wp-content/uploads/2020/07/IBBB_2020_logo_sq.png
0
0
Emily-Ann Walsh
https://itsybitsybookbits.com/wp-content/uploads/2020/07/IBBB_2020_logo_sq.png
Emily-Ann Walsh
2019-04-30 18:05:34
2019-05-01 05:06:20
The Queen of Witches (Wheel of Crowns #2) by Brandi Elledge – Review by Emily Walsh