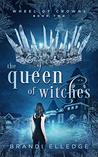 The Queen of Witches by Brandi Elledge
My rating: 5 of 5 stars
WOW- Got to say, I am LOVING this series so much! Really, if you love fantasy/paranormal in any of its guises- and you haven't read this book/series- what are you waiting for?! Click away and dive in, you really won't regret it!
The Queen of Witches is the second book in the Wheel of Crowns Series by Brandi Elledge. It is addictive reading- a riveting, action-packed paranormal fantasy, with witches, werewolves, warlocks, psychics, soothsayers, vampires, supernatural creatures, magic, fate, missing keys, bloody battles, intensity, drama, choices, changes, chemistry, friendship, different factions, hidden agendas, and much, much more.
Charlize Galloway (Charli) has begun to think that there is something seriously wrong with her, because ever since she turned 18, strange things have been happening and she can't work out why. Then things take an even stranger, but sexy turn, when two gorgeous strangers arrive in town- both vying for her attention. One promises to help her discover 'who' she really is and to teach her about the unusual things that seem to happen around her. The other needs her help finding something very important. But danger isn't very far away, and soon Charli will need to choose who she will place her trust in. There is quite a lot riding on her decision. Who can she trust? What will she choose? And will it be the right decision?
OMG! Where do I even begin to do this book the justice it deserves! It is so funny, emotive, exciting, fast-paced, intense, touching, romantic, and just plain incredible. The story is told from Charlie's perspective, which I loved- but I really wanted to hear from Jameson too- especially after meeting him briefly in book#1 and being so intrigued by him.
Ms. Elledge is a gifted storyteller and excels at original, and intricately detailed world building- bringing the whole story to life. She's a masterful storyteller, that's for sure!!
Without a doubt, one of my favourite series, ever!!
Book three is set to be even better!!
Bravo, and thank you Ms. Elledge!
Reviewed by @angelahayes
https://itsybitsybookbits.com/wp-content/uploads/2020/05/group-blue-01-April-2020-300x177.png
0
0
Angela Hayes
https://itsybitsybookbits.com/wp-content/uploads/2020/05/group-blue-01-April-2020-300x177.png
Angela Hayes
2019-04-24 16:05:12
2019-04-24 19:11:25
The Queen of Witches (Wheel of Crowns Book 2) by Brandi Elledge – Review by Angela Hayes