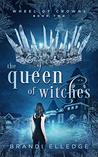 The Queen of Witches by Brandi Elledge
My rating: 5 of 5 stars
The Queen of Witches (Wheel of Crowns Book 2) by Brandi Elledge
5 Stars
This is another exciting book in the Wheel of Crowns series. This story revolves around Charlie and her powers. Charlie's parents died in an accident and it was her brother who took on the responsibility of raising her. Knowing it was hard on her brother, Charlie didn't want to burden him when her powers started manifesting. She doesn't believe in the supernatural so she just thought there was something wrong with her.
Two hot guys show up in town. One wanting to help her and one needing her help. She decides to trust her gut and drag her best friend Tandi along for the ride. With evil warlocks and the Prince of Hell after her, Charlie will need to learn how to use her powers fast.
There is so much action in this book that I couldn't put it down. The romance between Charlie and her soulmate was nice. There was an immediate attraction but with the slow buildup leading to them being together added another layer to the story. Charlie is one powerful witch because when she learned to control her powers, she kicked ass. She is a strong female lead which I love. Her time in Hell proves it yet again. I enjoyed the reappearance of certain characters from the first book. There were some surprises that the author threw in that will shock you. I loved this book and can't wait to read book three about Tandi.
http://itsybitsybookbits.com/wp-content/uploads/2020/02/group-01-01-300x183.png
0
0
Anna Hirsch
http://itsybitsybookbits.com/wp-content/uploads/2020/02/group-01-01-300x183.png
Anna Hirsch
2019-04-19 20:11:24
2019-04-19 20:11:24
The Queen of Witches (Wheel of Crowns Book 2) by Brandi Elledge - Review by Anna Hirsch