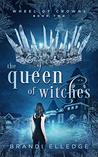 The Queen of Witches by Brandi Elledge
My rating: 5 of 5 stars
Where to start is an understatement to say the least. Ms. Brandi Elledge wrote an exciting book 2 The Queen of Witches. Charlie, the main female character, in my opinion is an amazing. She lives believing that werewolves do not exist. She is having a hard time because there are things going on around her and she does not fully understand what is happening to her. But reality hits her when she is kidnapped and forced to wed a warlock because she is a witch. The story progresses from this point with excitement and romance. Will Charlie get away from those who want her to marry the warlock? Will the werewolf find her? Will Charlie get the hang being a witch? I cannot wait to read the third book to see what happens to Charlie next.
https://itsybitsybookbits.com/wp-content/uploads/2020/07/IBBB_2020_logo_sq.png
0
0
Erica Fish
https://itsybitsybookbits.com/wp-content/uploads/2020/07/IBBB_2020_logo_sq.png
Erica Fish
2019-04-26 12:28:54
2019-04-26 12:59:36
The Queen of Witches (Wheel of Crowns Book 2) by Brandi Elledge – Review by Erica Fish