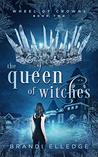 The Queen of Witches by Brandi Elledge
My rating: 4 of 5 stars
I give The Queen of Witches (Wheel of Crowns Book 2) by Brandi Elledge, 4 stars.
Charlie is afraid she's losing her mind. Weird things have been happening since she was young, but they have been escalating lately. Now on top it off, two hot strangers are in town vying for her attention. They both say they can explain what is going on with her and help her. But which one can she trust? And is there more to the story? She doesn't realize just how much she will learn about a world she didn't even know existed. What will she do when those she loves are threatened? Can she become what is expected of her?
This is the second book in the series. It can be read as a standalone, but I highly recommend reading book one first because it is also so good. The characters are wonderful. They are real and funny, but serious when they have to be too. Charlie has a lot to learn quickly and she takes it on without complaint. The story is so enthralling. Once I started, I could not put the book down. Plus there were some twists thrown in that I did not see coming. This made it even better.
I highly recommend this book and cannot wait to read the next book in the series.
Review by @erinwolf79
https://itsybitsybookbits.com/wp-content/uploads/2020/05/group-blue-01-April-2020-300x177.png
0
0
Erin Wolf
https://itsybitsybookbits.com/wp-content/uploads/2020/05/group-blue-01-April-2020-300x177.png
Erin Wolf
2019-05-08 11:20:00
2019-05-08 12:00:34
The Queen of Witches (Wheel of Crowns Book 2) by Brandi Elledge – Review by Erin Wolf