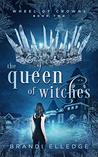 The Queen of Witches by Brandi Elledge
My rating: 5 of 5 stars
I really enjoyed book 1 in this series so I was really looking forward to jumping in to book 2 and I wasn't disappointed at all. It still had everything I loved from book 1, the great storyline, the great writing style, an interesting plot and great characters – in fact I think I liked this book ever so slightly more than the first. It was a fast paced read that was full of action that definitely had me turning the pages as quick as I could just so I could find out what was going to happen next. Again the richly described scenery meant I felt like I was right there in the story with the characters.
I really liked Charlie and felt a great connection with her straight away. This author definitely knows how to create fantastic female leads that are a pleasure to read about. The attraction between Charlie and Jamison was undeniable and I enjoyed following their story.
I am REALLY looking forward to reading the third book in this series! I just know it's going to be just as good as books 1 and 2!
https://itsybitsybookbits.com/wp-content/uploads/2020/07/IBBB_2020_logo_sq.png
0
0
Katie Matthews
https://itsybitsybookbits.com/wp-content/uploads/2020/07/IBBB_2020_logo_sq.png
Katie Matthews
2019-05-03 10:12:08
2019-05-03 11:47:59
The Queen of Witches (Wheel of Crowns Book 2) by Brandi Elledge – Review by Katie Matthews