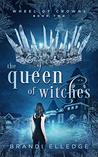 The Queen of Witches by Brandi Elledge
My rating: 5 of 5 stars
The Queen of Witches (Wheel of Crowns #2) by Brandi Elledge
5 out of 5 stars
The Queen of Witches is the second book of the Wheel of Crowns series written by Brandi Elledge and it's the second book that I have read by this author. The characters are well written and the plot was amazing the secondary characters and their quirkiness made the story more enjoyable. I read this book in one sitting that's how good this book/series is.
Since Charlie's her 18th birthday, strange things have been happening around her—like randomly starting fires or turning things to ice and she is afraid. But things are about to get even weirder. Two handsome guys show up looking for her they both wish to help her while the other wants her to help him look for something.
Charlie discovers more than she could have suspected she's a witch. This explains all the weird things she's been doing something that's confirmed when she's kidnapped and forced to put on a wedding dress to marry a powerful warlock.
And if Charlie thinks avoiding a wedding is the biggest of her problems, she has another thing coming. Many things coming actually. Because she's made the Prince of Hell mad as well, as hell. And, with a bunch of his evil chums, he's coming for her.
She'd better hope she masters the whole 'turning things to ice' magic pretty fast. And that the Werewolf can track her down. Because staying in hell is exactly like it sounds. And getting out might just take more than she can give.
I really enjoyed this book/series…. I highly recommend this book/series…
By
Tracy
https://itsybitsybookbits.com/wp-content/uploads/2020/07/IBBB_2020_logo_sq.png
0
0
Tracy Manderson
https://itsybitsybookbits.com/wp-content/uploads/2020/07/IBBB_2020_logo_sq.png
Tracy Manderson
2019-05-02 21:05:19
2019-05-02 22:07:04
The Queen of Witches (Wheel of Crowns Book 2) by Brandi Elledge – Review by Tracy Manderson