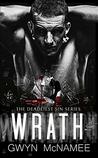 Wrath
By: Gwyn McNamee
My Rating: 5 of 5 stars
Wrath (The Deadliest Sin Series Book 1) by Gwyn McNamee was a dark romance that will have you on the edge of your seat.
The first book in what I believe will be something amazing. This quick read gets your blood going right away, with a quick fire, dark prologue, before getting right into the smutty hotness of the MC's. The stage was set beautifully, and when it was time for the real plot and bloody like action to get underway, It. Was. Glorious.
This book had a "Man of Fire" feel, with a bit of the "Equalizer". I was hooked, hard. This novella read liked a full length book, and man oh man, I didn't want the ride to end. Speaking of endings, I don't know if I'm okay with it, cause, wow, I loved it, I'm a little mad at the author for it, but wow it was good.
Overall this book is a must read and a super high recommendation from me. So please take my golden stamp of approval that, you will love to hate, to be obsessed with this book.
Happy Reading
-Review by @eawalsh
http://itsybitsybookbits.com/wp-content/uploads/2020/02/group-01-01-300x183.png
0
0
Emily-Ann Walsh
http://itsybitsybookbits.com/wp-content/uploads/2020/02/group-01-01-300x183.png
Emily-Ann Walsh
2019-05-25 05:09:24
2019-05-25 06:51:57
Wrath (The Deadliest Sin Series Book 1) by Gwyn McNamee - Review by Emily Walsh