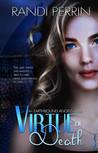 Virtue of Death by Randi Perrin
My rating: 5 of 5 stars
Virtue of Death is the first of the series of Earthbound Angels and I absolutely loved it! I have always loved paranormal and the author has now a place in my bookshelf next to Cynthia Eden and Gena Showalter and … It did not hurt that I also love baking and quirky bakeries.
I am impressed how the author has duality of life – life-birth-creativity and the death-end. I feel so much like Sera when baking – you are creating something amazing that brings people pleasure, creates memories and awakens memories. I also love how she has found positive in her 'job' as an Earthbound Angel – it would be so easy to just get stuck with the surface and say it is so morbid.
Another great storyline is the unconditional friendship between Sera and Cheryl – they have been friends since they were 8 years old and they have been Angels together since they were 18 years old. I love Cheryl's black humor and unwavering loyalty and gothiness mixed with sweetness.
Of course we cannot forget about the love story between Sera and Destin. What an irony – when Sera finally truly falls in love, it is with a …. food critic and journalist!
With little twists and pain and suffering it all ends well, there are no lingering questions that would hound us and I think it is good as sometimes we simply need a book that is a great read, makes us laugh and cry and makes us look forward to another Earthbound Angels' story. The author has confirmed that she has finished the manuscript). I hope she does not make us wait too long!
https://itsybitsybookbits.com/wp-content/uploads/2019/09/IBBB_promotions_logo-01-300x180.png
0
0
Jana Teppih
https://itsybitsybookbits.com/wp-content/uploads/2019/09/IBBB_promotions_logo-01-300x180.png
Jana Teppih
2017-01-07 10:17:25
2018-10-05 16:38:57
Virtue of Death by Randi Perrin - Review by Jana Teppih