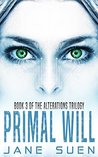 Primal Will by Jane Suen
My rating: 4 of 5 stars
Primal Will: Book 3 of the Alterations Trilogy by Jane Suen os the last book in the trilogy and a quick read short read but one that pulls a punch. The story picks up right where the last left us so I highly recommend you read the first two books in this series, which are also short reads, to make sure you know what is going on because you will find yourself lost with who the characters are and what is going on. Jane's writing style and her plots keep you engaged every step of the way. Dr Kite is in the forefront of the story once again but is he still evil or will he trade it in a become Mr Nice?
To find out you will just have to read this trilogy. I wonder what Jane has in store for us next.
Reviewed by @jennadb
https://itsybitsybookbits.com/wp-content/uploads/2020/07/IBBB_2020_logo_sq.png
0
0
Jenni Bishop
https://itsybitsybookbits.com/wp-content/uploads/2020/07/IBBB_2020_logo_sq.png
Jenni Bishop
2018-08-16 10:35:11
2019-01-09 10:36:21
Primal Will (Alterations Trilogy #3) by Jane Suen – Review by Jenni Bishop