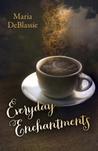 Everyday Enchantments by Maria F. DeBlassie
My rating: 4 of 5 stars
"To live with Enchantment is to see beyond the bricks and mortar that make up your home and into the magic infused within its frame. It is made up of stories and dried bay leaves and dreams whispered into the heads of dandelions. Of bare feet on carpeted floors and the smell of burning sage. Crystals – amethyst, citrine, amazonite, smoky quartz – winding in and around your books; all the better to magnify their magic. It is to peel back the layers of your day-to-day and search for that elusive energy that winds its way up your spine and outward into your life. Let the snake at your base wriggle free of its coil to climb up to your shoulder blades and across your open back. There is no room for tightly stacked discs here, just the taste of joy when the sun licks your skin.
You might find it at the bottom of an empty teacup. Your future written in soggy leaves or in the whisper of trees, their leaves rustling and murmuring secrets only they can understand. Sometimes they are kind enough to translate for you – if you listen long enough. If you shower their roots with distilled love songs and feed them the black earth from your compost. It's there, too, when you run your tongue along the grooves and ridges of a well-loved sentence. It's everywhere. Even in the spaces you think have lost hope, like the junk drawer where you keep your faded dreams, stray screws, and half-forgotten heartbreaks along with wine corks and a few rubber bands. They're not lost, just resting like seeds in the earth before they are ready to break open."
………………………
"Let's start with the adventuring. That morning you wake up with an expansive feeling in your chest, a longing to roam to the farthest reaches of your territory. You want the sun on your skin and fresh air to tickle your nose, to wander wherever your feet will take you. Perhaps to the neighborhood bookstore, or to the park, full of families playing games and couples walking their dogs. All you know is that you must walk until the bright energy in your chest reaches your toes, and your whole body sings with the fullness of life."
………………………
Everyday Enchantments is an enchanting book full of musings, wonder and appreciation by Maria DeBlassie. It's a wonderful non-fiction 'self-help' book that I would classify as philosophical, and packed full of simple, yet inspirational teachings. It also has a real shamanistic quality to it that made the ideas and advice Ms. DeBlassie gives to be quite thought provoking and uplifting.
It is a meditation on finding the beauty in the small, simple things in our lives. To take a breath, slow down and appreciate 'being'. It's about thankfulness, mindfulness, reflection, understanding, simplifying, and conjuring our own happiness. There are many blessings to be found in the mundane, we just need to 'still' our minds to see them. There is so much of our lives that we don't think about, things we take for granted, yet should be more important and meaningful.
Ms. DeBlassie explains how we can create our own 'magic' in our lives and lead richer and more fulfilling lives.
The author gives examples, by sharing her own experiences, lessons, and thought processes- and even though there may be geographical, or cultural differences, the underlying message applies to all.
There are a lot of things that I will takeaway from this and a few that I will ponder on some more, but overall I really understand and appreciate the message that Ms. DeBlassie is sharing here.
Lovely!
Thank you, Ms. DeBlassie!
"Yesterday I cleaned the house. My home. From top to bottom with elbow grease and burning sage. I tore up disappointments, collected broken hearts for my compost, and laid them to rest among the worms and coffee grinds.
I honor my sacred space because I built it with my own hands and my own dreams. I honor it because they want me to be ashamed of my hard work or collapse under its burden. They don't know that my daily industry is what keeps my fire stoked. That the many hours harvesting seeds has given me a bumper crop of hope and rosemary to chase away unwelcome spirits that come knocking on my door."
Reviewed by @angelahayes
https://itsybitsybookbits.com/wp-content/uploads/2020/07/IBBB_2020_logo_sq.png
0
0
Angela Hayes
https://itsybitsybookbits.com/wp-content/uploads/2020/07/IBBB_2020_logo_sq.png
Angela Hayes
2018-10-26 01:57:15
2018-10-26 14:45:59
Everyday Enchantments: Musings on Ordinary Magic and Daily Conjuring by Maria F. DeBlassie – Review by Angela Hayes