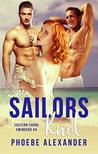 Sailors Knot by Phoebe Alexander
My rating: 5 of 5 stars
Sailors Knot is the fourth book in the Eastern Shore Swingers Series by Phoebe Alexander. Let me start by saying that Ms. Alexander has really set the bar quite high with this wonderful book. I am a big fan of her work and she never fails to deliver an enticing read, and this story is no exception. I have come to expect a lot from her, which probably isn't very fair on my part, but I blame her for writing stories that just get better and better the farther into the series we go, eclipsing the other books with each new instalment. Just when I think that it won't be possible to match the previous book, she ups the ante and not only matches, but exceeds them, as well as all my expectations, and blows me away. Especially this book, which is my favourite, and pick of the series so far. Out of all her books, this one wormed its way farther into my heart than any of the others managed to do.
From the divine cover, to the exceptional writing, the original storyline, and wonderful characters, Ms. Alexander ticks all the boxes, and then some. This is a fantastic second chances x contemporary romance x erotica. There is heartache, loss, sacrifice, reminiscing, friendship, desire, unconditional love, heartbreak, triumph, sex-positivity, polyamory, passion, erotica, patience, and surprises.
This story could be read as a standalone, without feeling like you are missing anything from the storyline. But having said that, the other books are well worth the read, as they really are great stories on their own- but they also introduce other recurring characters. So, having all that information and the backstories would increase your reading pleasure, of this book, and the series as a whole.
The series itself is set around a swinger's club and the people who live the lifestyle and 'attend' the club and who go on to form a relationship through that- but this book was a little different as it concentrated more on a polyamorous relationship between three people and the connection, complexities, highs, and lows that came along with that. I was thrilled to finally be getting Casey's story, and even though Ms. Alexander put my emotions through the wringer, and I really felt for what Casey had been/was going through- I. LOVED. EVERY. MINUTE!
Casey Fontane is in California, staying with her sister while undergoing cancer treatment. Leah and Paisley have come to see her, but they both have their own issues that are weighing on their minds. The grand lady that Casey is, she gives them some great guidance by telling her own epic, and complicated love story.
We learn that what starts as a way for Casey to get all her 'needs' met, turns into something so much more significant- and through her, we meet Gabriel and Joshua- following as Casey takes us all on an incredible journey into the past and back again. Will she get a second chance, in life and love? Or is it all too late?
I love these characters, they are quite dynamic, and fully realised individuals with their own quirks and flaws- which made them all the more realistic and relatable.
OMG! That ending was EVERYTHING, with cheese on top!!! GAH! Loved it!
Now I can't wait for the next book!
Thank you, Ms. Alexander!
Reviewed by @angelahayes
https://itsybitsybookbits.com/wp-content/uploads/2020/05/group-blue-01-April-2020-300x177.png
0
0
Angela Hayes
https://itsybitsybookbits.com/wp-content/uploads/2020/05/group-blue-01-April-2020-300x177.png
Angela Hayes
2018-10-29 17:53:39
2018-10-29 20:19:28
Sailors Knot (The Eastern Shore Swingers Series Book #4) by Phoebe Alexander – Review by Angela Hayes