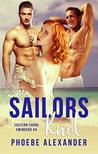 Sailors Knot by Phoebe Alexander
My rating: 5 of 5 stars
Sailor's Knot by Phoebe Alexander is the fourth book in her Eastern Shore Swingers Series and this book took the cake so to speak. Having read all of the other books in this series, I already knew I was in for a treat, but this book just took my breathe away. Following the story of Casey Fontane and her journey to meeting Gabriel and Joshua. Casey is living in California and staying with sister, who is undergoing chemotherapy. Her friends, Leah and Paisley, have come to visit her and while they have their own lives and issues to handle it is always good to be around friends. Because Casey is more of a matriarch to her group of friends, she gives each friend guidance and advice through way of her own complicated love story. The readers learn how Casey came to be with getting into the swinger scene, and how all of her dealings in the past have led her to Gabriel and Joshua. This chance meeting leads Casey and the readers on a fantastic journey of self-discovery, love, and a second chance at life and love. The twists and turns that these book takes will leave you on the edge of your seat and take your breath away in the same moment. Will she get her second chance love story? Or will meeting these two be a meeting too late?
This book can be read as a standalone, without missing out on any of the story, but the series is integrated so well in this series that you will need to read it as a whole to appreciate the evolution of Alexander's writing. And with the introduction of characters from other stories and seeing where they have grown in their own journey, will make this an even better series once read in order. Having read several of Alexander's works in the past I couldn't wait to get my hands on this book, and she definitely did not let me down in the least. If you are looking for a fantastic book, let alone series, this is one that you need to pick and dive into today. I can't wait to see where she takes us next.
Reviewed by @toxikcupkake26
https://itsybitsybookbits.com/wp-content/uploads/2020/07/IBBB_2020_logo_sq.png
0
0
Ashleigh Harrington
https://itsybitsybookbits.com/wp-content/uploads/2020/07/IBBB_2020_logo_sq.png
Ashleigh Harrington
2018-11-18 22:20:59
2018-11-19 06:29:31
Sailor's Knot (Eastern Shore Swingers, #4) by Phoebe Alexander – Review by Ashleigh Harrington