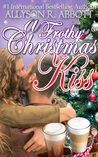 A Frothy Christmas Kiss by Allyson R. Abbott
My rating: 5 of 5 stars
A Frothy Christmas Kiss by Allyson R. Abbott. This is book 4 of the Christmas series and I loved everyone of them. This is the story of Kat who is obsessed with coffee and a new coffee shop has opened in her hometown. All the different coffees amaze her and the owner, Dan, is kinda cute! They begin flirting but Kat knows its not ever gonna happen but when he offers her a job in the coffee shop she can't believe her luck. With Christmas coming she has trouble controlling her feelings for Dan and her ex boyfriend Spencer comes back into her life along with her Dad who is trying to tell her how to live her life. Kat is beginning to feel like her world is spinning out of control, she has feelings for Dan but doesn't want to hurt Spencer's feelings. She is also trying to make her Dad happy but she's about to spend Christmas alone because she's tired of everyone pulling her in 50 different directions. Will Kat find happiness and love or will she be alone again. This is such a good book with a happily ever after!
https://itsybitsybookbits.com/wp-content/uploads/2020/07/IBBB_2020_logo_sq.png
0
0
Tausha Treadway
https://itsybitsybookbits.com/wp-content/uploads/2020/07/IBBB_2020_logo_sq.png
Tausha Treadway
2018-12-26 09:49:09
2018-12-26 12:30:37
A Frothy Christmas Kiss (Christmas Kiss Series) by Allyson R. Abbott- Review by Tausha Treadway