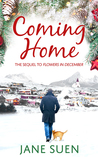 COMING HOME by Jane Suen
My rating: 4 of 5 stars
Coming Home by Jane Suen is the sequel to Flowers in December. While I have read a lot of books and generally love Suen's work, this was not one of my favorites. I think mostly because it didn't end the way I wanted it to. I kept expecting, and hoping for 2 things to happen, that didn't. I can't say what, as it is a spoiler, but just be warned, don't get your hopes up for a sappy romantic ending. I love the part of the story regarding Alana and her mother, but Mary Ann's story didn't end as expected. But, anyone who has read any of the author's books knows that's normal. She always seems to put a twist in at the end which I sometimes love and sometimes want to scream, in a true page turner fashion.
The story follows Connor Norton, after he and his cat, Tom, return to his childhood home. In the previous book, his mother passed away, and he is still grieving. He has to make some decisions about the next steps for his life, and rekindles some friendships along the way. I recommend the book, but it must be read after Flowers in December. I highly recommend you check out Jane Suen's other works as well. They are all quick easy reads.
Reviewed by @way2gosmartguy
https://itsybitsybookbits.com/wp-content/uploads/2018/09/41350827_531011120653197_5005389383935721472_n-1030x381.jpg
0
0
Elizabeth Sanchez
https://itsybitsybookbits.com/wp-content/uploads/2018/09/41350827_531011120653197_5005389383935721472_n-1030x381.jpg
Elizabeth Sanchez
2019-02-27 19:37:00
2019-02-28 06:01:10
Coming Home: The Sequel to Flowers in December by Jane Suen - Review by Elizabeth Sanchez