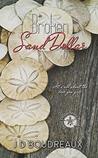 Broken Sand Dollar by J.D. Boudreaux
My rating: 4 of 5 stars
Broken Sand Dollar by JD Boudreaux is book three of The Sand Dollar Series. To better understand the events that take place in this book, I highly suggest reading book one and two first.
This series spans over years of Alex's life. The author effortlessly weaves together present tense with flashbacks of Alex's past. When you read the first two books you start to get an idea of how you think the third book will go but then it takes you on a completely different journey. Alex's journey self reflection, coupled with the therapy he does, teaches him a lot about himself.
This book was very well written. I enjoyed seeing the differences in all the characters and how they reacted to different experiences. I was hooked as soon as I started reading this book. It was a great conclusion to the series!
https://itsybitsybookbits.com/wp-content/uploads/2020/07/IBBB_2020_logo_sq.png
0
0
Angelina Frazzini
https://itsybitsybookbits.com/wp-content/uploads/2020/07/IBBB_2020_logo_sq.png
Angelina Frazzini
2019-03-02 21:26:30
2019-03-02 22:12:46
Broken Sand Dollar (The Sand Dollar Series Book 3) by J.D. Boudreaux – Review by Angelina Frazzini