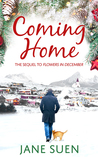 COMING HOME by Jane Suen
My rating: 4 of 5 stars
Coming Home: The Sequel to Flowers in December is written by Jane Suen. It is a fitting follow on from Flowers in December, and another great and riveting story.
Coming Home is a magical story of Connor and Mary Ann, Alana and Dottie. Loss, sadness, hopelessness all feature in their story. But love is a funny little creature. You find it the oddest of places, when you least expect it. Each character has there load to carry, and the author pens it out intriguingly and smartly. A great story to disappear into, with a cast that is easy to like, frustrating at times, always giving more to their audience. A quality story that just kept getting better. 4 stars.
https://itsybitsybookbits.com/wp-content/uploads/2020/07/IBBB_2020_logo_sq.png
0
0
Tracy Wilkin
https://itsybitsybookbits.com/wp-content/uploads/2020/07/IBBB_2020_logo_sq.png
Tracy Wilkin
2019-03-09 00:21:49
2019-03-09 06:45:51
Coming Home: The Sequel to Flowers in December by Jane Suen – Review by Tracy Wilkin