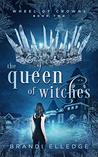 The Queen of Witches by Brandi Elledge
My rating: 5 of 5 stars
The Queen of Witches is the second book in the Wheel of Crown Series and i liked it even more than i liked the first one. I couldn't put this one down and before i knew it i was all the way through it. There was a lot of things happening in this book and i am happy to be just reading about the crazy things they're dealing with instead of actually being there. I enjoyed the characters in this book so much and we got to see a few characters that were in the previous book and i enjoyed that a lot. I am looking forward to reading book 3 in this series and i would recommend this to a friend!
https://itsybitsybookbits.com/wp-content/uploads/2020/07/IBBB_2020_logo_sq.png
0
0
Anastasia Dodson
https://itsybitsybookbits.com/wp-content/uploads/2020/07/IBBB_2020_logo_sq.png
Anastasia Dodson
2019-05-03 23:34:09
2019-05-04 05:50:13
The Queen of Witches (Wheel of Crowns Book 2) by Brandi Elledge – Review by Anastasia Dodson