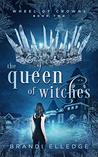 The Queen of Witches by Brandi Elledge
My rating: 5 of 5 stars
Wow, Book 2 in The Wheel of Crowns Series has just stepped up a notch. When I thought the suspense, action, adventure and sexiness of the men in Book 1 was a lot, Brandi Elledge brings us The Queen of Witches. Once again the read was captivating, thrilling and action-packed from start to finish and I couldn't put it down.
This was a mentally, visual read that with the descriptive writing I could picture this read in my mind while reading it, I loved this take on the supernatural world and can't wait to see where the rest of this series takes us. This author has created another extremely independent, fierce and amazing lead female, that through this story continues to show how powerful she can really be and how well she transitions into this new life she has come unexpectedly into. Once again the immediate attraction between out two main characters Charlie & Jamison is real to watch develop, even with everything they have to face they still manage to find the time to really look at each other and see the feeling and affection that blossoms there.
Another thing that Brandi Elledge brings to each of these books is the humor element of the story, and this time it was in the form of the incredible friend Tandi, I absolutely loved her, I loved her commentary that she would give and the little comments slipped here and there into the conversation just made this book even better.
My only issue is would love this read in dual POV's there were moments in this book and Book 1 that you really needed to get the male leads POV, I think that would just make these reads that one step deeper.
Overall I have loved everything from this author, there is not one thing I can fault about this epic supernatural realm I've been cast into and I'm loving every second I'm reading of it! Do not miss this read, I will eagerly be awaiting Book 3 to see who's journey we face next!
Reviewed By @tillytillzz
https://itsybitsybookbits.com/wp-content/uploads/2020/05/group-blue-01-April-2020-300x177.png
0
0
Chantelle Smith
https://itsybitsybookbits.com/wp-content/uploads/2020/05/group-blue-01-April-2020-300x177.png
Chantelle Smith
2019-05-02 06:51:39
2019-05-02 08:20:15
The Queen of Witches (Wheel of Crowns Book 2) by Brandi Elledge – Review by Chantelle Smith