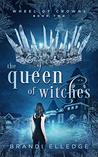 The Queen of Witches by Brandi Elledge
My rating: 4 of 5 stars
This is the paranormal series that hooked me this year and it hasn't let go. Its TOTALLY different from anything I have from the genre and its the best!
This book, omg this series, will hook you from the beginning! We have Charli. Crazy things are happening to her and two hot strangers appear in her town to teach her what's happening but danger is ahead and who will she trust?!?
Omg this series has hooked me! It's action with hints of romance. It's everything you want in a series. I can't wait for more!
Review by @listersda
View all my reviews
https://itsybitsybookbits.com/wp-content/uploads/2019/09/IBBB_promotions_logo-01-300x180.png
0
0
Susan Mowdy
https://itsybitsybookbits.com/wp-content/uploads/2019/09/IBBB_promotions_logo-01-300x180.png
Susan Mowdy
2019-05-03 19:07:40
2019-05-04 05:18:21
The Queen of Witches (Wheel of Crowns Book 2) by Brandi Elledge - Review by Susan Mowdy