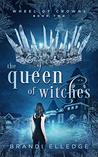 The Queen of Witches by Brandi Elledge
My rating: 5 of 5 stars
The Queen of Witches (Wheel of Crowns Book 2) by Brandi Elledge is another great story in this series and I absolutely have fallen in love with. I love the paranormal fantasy world Brandi has created and am drawn to the struggles and triumphs these wonderful characters are faced with. I love the humour that makes me laugh out loud, the mystery of not knowing what is coming next and the faith these paranormal creatures have in themselves and those that mean something. This is one action packed and enthralling read that will have you riveted to your seat. The only thing that could make the story better is if it was told in the male POV as well, which we all know is something I love.
Charlie lost her parents and her brother has taken over the role of parent but he is not around much as he makes his own life but she learns that her parents and her brother are not what they seemed. Now she is faced with being able to do strange things and two strangers to town mean she is a major player in the war. Witches and warlocks, werewolves and vampires, demons and many other creatures fight to the death to find the keys.
Brandi has sealed her place as another Author on my must have in my life with this series. Make sure you read them in order and sit back and enjoy the thrilling ride that will have you enthralled.
Reviewed by @jennadb
https://itsybitsybookbits.com/wp-content/uploads/2020/07/IBBB_2020_logo_sq.png
0
0
Jenni Bishop
https://itsybitsybookbits.com/wp-content/uploads/2020/07/IBBB_2020_logo_sq.png
Jenni Bishop
2019-05-03 20:15:44
2019-05-04 05:29:31
The Queen of Witches (Wheel of Crowns Book 2) by Brandi Elledge – Review by Jenni Bishop