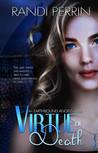 Virtue of Death by Randi Perrin
My rating: 5 of 5 stars
Randi Perrin has written a little gem with this paranormal romance Virtue by Death. This angelic story is well written and is a romantic story with a twist and is a happily ever after. It is a standalone book but I wonder if Randi has more of those quirky, sassy and yet sweet characters in store for us?
Sera owns her own shop and has always loved baking. By day she is a lover of baking but at night she is the Angel of Death. Sera loves both jobs, but lately she has to fight demons to get to the souls of the dying to heaven before they get to them. Sera also loves her best friend and fellow angel, Cheryl, whom you will adore. Where Sera is sweet and sugary, Cheryl is all sorts of sass and snark but they complement each other beautifully. Even though Cheryl is an angel, she is a different type of angel to Sera, she can save lives. Both take their angelic jobs seriously and adhere to the rules religiously.
Journalist and food critic, Destin, is given baked goods to review for his job and little does he know that this one review will change his life forever. Destin writes his review for a shop that sells baked goods but after reading the review the owner, Sera, can not believe what she reads and decides to give him a piece of her mind.
Will Sera open up about her secret? Will Destin be the one she trusts? Will Destin believe in Sera? Will Destin or Heaven be the one to break her heart? Can Sera forgive and move on? Will Sera be destroyed by the demons or will she eventually outsmart them?
This story is full of friendships and love. We learn that true love is worth any sacrifice and because of this, the strength of the girls friendship is tested when Heaven throws a curve ball their way. I love the banter between Cheryl and Destin which ensures just the right amount of humour when things get a little tense or down. I enjoyed the plot and as well as the sense of humour. This is one book not to be missed.
Reviewed by @jennadb
https://itsybitsybookbits.com/wp-content/uploads/2018/09/41350827_531011120653197_5005389383935721472_n-1030x381.jpg
0
0
Jenni Bishop
https://itsybitsybookbits.com/wp-content/uploads/2018/09/41350827_531011120653197_5005389383935721472_n-1030x381.jpg
Jenni Bishop
2017-06-29 08:11:55
2018-11-17 08:12:59
Virtue of Death by Randi Perrin - Review by Jenni Bishop