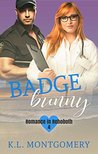 Badge Bunny by K.L. Montgomery
My rating: 5 of 5 stars
Badge Bunny is the fourth book in the Romance in Rehoboth series, and it is a contemporary romance novel by K.L. Montgomery. It is the story of a 29 year old young man named Christopher "Chris" Everson. Chris is a Delaware State Trooper who has lived in the Rehoboth Beach community since he was adopted at the age of 8 years old. Both of Chris' birth parents were killed in a car accident by a drunk driver. One of the reasons that Chris became a State Trooper is so that he can arrest as many drunk drivers as he can, so that he can try to prevent these drunk drivers from killing any more innocent people and ruining any more lives. Chris is also the author of a successful series of children's books under the pen name of C.J. Evans. Chris has kept the fact that he is a children's book author a secret from all of his friends and family, even going so far as to wear a disguise when he appears at book signings. He knows that if they were ever to find out that he was a children's book author that they would forever give him a really hard time, and even call him names. As part of Chris' job as State Trooper he sometimes must accompany accident victims or people who have been assaulted to the Lewes Hospital Emergency Room. On one of these occasions occurs when Chris meets a very attractive female ER physician named Dr. Brynne Miller, MD, whom he mistakingly assumes is a nurse in the ER. When Chris tries to ask Brynne out on a date since he is very attracted to her and can't stop thinking about her, she refuses him and says that she will never date another cop again. Chris is determined to change Brynne's mind about going out on a date with him.
This story is also about Dr. Brynne Miller, MD, who is a 32 year old physician in the ER at the Lewes Hospital in Lewes, Delaware. Brynne has worked in the Lewes Hospital's ER for several years and loves everything about her job except the crazy hours that she has to work. Brynne moved to Lewes so that she could be closer to her older brother, Ben, and his wife, Jamie, who are the only family that she has. Brynne's parents divorced when she was a senior in high school, and neither parent has remained in hers or her brother's lives since she left for her freshman year of college. Brynne has recently broken up with a man named Todd, who is a police officer who she met in the course of her job. Brynne says that she meets most of the men that she dates in the ER, and most of the men happen to be cops. In fact, due to the fact that Brynne dates so many cops, her friends and acquaintances in the ER have nicknamed her a "Badge Bunny". After Brynne meets Christopher Everson in the ER and he asks her out on a date the next time she sees him there, she tells him that she won't date any more cops because she believes that they are arrogant, sexist, jerks – she also doesn't want to be called a "Badge Bunny", but she doesn't tell him that. Even though she believes that Chris is also one of those jerk cops, and even calls him, "Trooper Asshat" to herself when she thinks about him, Brynne is still thinking about him, which bothers her a lot, and recognizes that she is physically attracted to him even if she doesn't want to be. Will Chris be able to convince Brynne that he is not a jerk like those other cops that she has dated, and get her to go out on a date with him?
I very much enjoyed this fourth book in the "Romance in Rehobeth" series by K.L. Montgomery. Even though I have read all of the books in the series, it is not necessary to have read them to enjoy this stand-alone romance novel. I really liked that the author has the characters of Chris and Brynne tell the story from each of their perspectives, too. Brynne is a strong and very smart woman, and Chris doesn't fit into the category of a "typical" cop, since he is also a children's book author, which is another reason that I really enjoyed this book. I also like reading more about the couples that I've met in some of the author's previous books in this series. I definitely recommend this book to readers who enjoy a good romance novel as much as I do.
https://itsybitsybookbits.com/wp-content/uploads/2020/07/IBBB_2020_logo_sq.png
0
0
Denise Owens
https://itsybitsybookbits.com/wp-content/uploads/2020/07/IBBB_2020_logo_sq.png
Denise Owens
2018-09-06 07:59:25
2018-10-13 08:00:20
Badge Bunny (Romance in Rehoboth, #4) by K.L. Montgomery – Review by Denise Owens