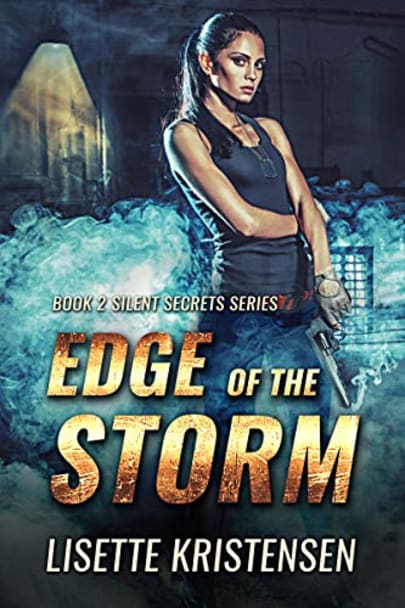 Edge of the Storm: Book 2
By: Lisette Kristensen
My Rating: 4 of 5 stars
Edge of the Storm (Silent Secrets Book 2) by Lisette Kristensen was an action packed thrill ride that had me gripped from start to finish. This was a taste of what I believe is going to be an awesome series.
Right out of the gate we're shown what these agents can do. Deadly, there's no other word needed to describe these ladies, deadly covers it all. Blackbird, is firece, I don't think I would have held up like she did. I want to read more about this character. She doesn't have much back story, but that added to her mystic, so reading the first book is a must, if you want to know more about this fierce deadly character.
This is a short read coming in at at about75 pages, making an already quick read, mixed in with the fast moving plot and action, over in a blink. I was left wanting more! The ending is a bit open, so I'm hoping that means there's going to be more to this world. Going back to the plot, it was pretty solid, there were a few shaky spots, but I believe that has to do with the short length. A bit more time on the key plot twist would have made the story that much more epic. I believe this short read would make a thrilling exciting full length novel.
I highly recommend you pick up this fast pace, action packed, thriller. So please take my super high recommendation and my stamp of approval, that this book will keep you on edge, keep that blood up and, make you second guest any new character that seem to be… unimportant.
Happy reading.
– Review by @eawalsh
https://itsybitsybookbits.com/wp-content/uploads/2020/07/IBBB_2020_logo_sq.png
0
0
Emily-Ann Walsh
https://itsybitsybookbits.com/wp-content/uploads/2020/07/IBBB_2020_logo_sq.png
Emily-Ann Walsh
2019-05-25 11:04:57
2019-05-25 11:42:55
Edge of the Storm (Silent Secrets Book 2) by Lisette Kristensen – Review by Emily Walsh